about me,
the Minds & the community

Some months later GNFTNW was getting released. It is still my favorite album. I was very lucky to see Simple Minds again in Frankfurt, where "The surfing brides" also played as special guests. I was standing in the first row on the seconf floor directly in front of the stage. It was horrific loud and some hours after the concert, my ears still resounds.... But it was simply great!

In 1999, the Simple Minds played in Frankfurt again during the "Night of the Proms" tour. I loved to be there, but I couldnt. My oldest daughter had her date to be born. So I , of cause, had to stand beside my wife....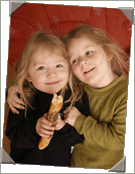 my daughters Diana & Vanessa
<< PREVIOUS <<
about me,
the Minds & the community

I guess it was in the same year, I have found the webside "www.simpleminds.com" the first time. It was the Neopolis outfit. To tell you the truth - I didnt liked that outfit. Also the website wasnt very informative. Suddenly that website disappeared and got replaced my a side named "pixelmotions" or something like this. I was very disappionted about the fact, that Simple Minds seemed to get disappeared.... I visited that URL from time to time, but it seemed to me, that the time of Simple Minds was over - ever!

But in the year 2001 the side got new life again. An absolute rebuild and.... a community! I really soon found new friends in here. Jax, Sera, Trevor, BettyBoop, Gordon .... I guess, I have forgetten some members. It was really getting my second family in here! Some time later some additional friends like Joan, Anja, Miriam, Martine and Sandra. I guess, this is the right moment to thank them all for their friendship and kindness. The longer I know this community, the more I am interrested in the fans themselfs, where they live and what they are doing. In 2003, I was happy to meet two of the community members in person. It was Doris and Kerstin in Offenbach.

>> NEXT >>